Michael Schwartz Library
Friends of the Michael Schwartz Library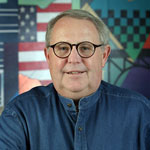 Michael Wells, President, Friends of the Michael Schwartz Library
The Friends of the Michael Schwartz Library at Cleveland State University is closely associated with the Michael Schwartz Library but is an independent organization whose purpose is to support the library in a number of different ways. By sponsoring programs of interest to faculty, students, and the general public, we hope to attract favorable attention for the library and interest in its activities.
We encourage both monetary and in-kind gifts to the library, particularly special collections materials with strong links to the Cleveland area. The Friends also accept both monetary and in-kind gifts, especially gifts of books. These books may be sold, given to the Michael Schwartz Library if librarians determine that they are appropriate for the collection, or given to other organizations. Our programs also provide continuing social and intellectual interaction between the University and the community.
Please consider joining the Friends of the Michael Schwartz Library.
- Michael Wells, President, Friends of the Michael Schwartz Library
For more information about the Friends of the Michael Schwartz Library: contact Barbara Loomis at b.i.loomis@csuohio.edu or call (216) 687-2475.
Join The Friends of the Cleveland State University Michael Schwartz Library for their Annual Local Author Series featuring Pauline A. Chen.
Pauline A. Chen will discuss the writing of her novel, The Red Chamber, which is based on the epic Dream of the Red Chamber--one of the most famous love stories in Chinese Literature. It recasts a timeless tale for Western audiences to discover.
New this year is the Friends of the Library Essay Contest for CSU Honors College Students (both Honors and Scholars Program) in partnership with the CSU Retired Faculty and Professional Staff Association and the Jack, Joseph & Morton Mandel Honors College. Honors College Students can submit an essay based on The Red Chamber for a chance to win $300. Ms. Chen will award the prize during the event.
Book signing opportunity.
Date:
April 13, 2016 at 3:00 p.m. - 4:30 p.m.
Location:
RT 416a (near Confucius Institute Program Center)
Questions? Call 216-875-9734 or email b.i.loomis@csuohio.edu.
The event is free and open to all faculty, staff, students and the general public but please register here.
Refreshments will be served.